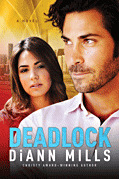 I really enjoyed this fast-paced, action-packed story! Special Agent Bethany Sanchez has a tough first day ahead of her. Not only is she joining the violent crime unit of the FBI and meeting her new partner, who once arrested her brother, but she also butts heads with him over their different styles of investigation. He operates more on hunches and his gut while Bethany is all about protocol and rules. They have two murders to solve and Special Agent Thatcher Graves believes they're looking at a serial killer while Bethany thinks it's a copycat. While they follow the leads in the investigation, Bethany is being harassed by texts from her criminal brother.
Thatcher and Bethany actually have a lot in common. Bethany has a complicated relationship with her family, with a brother who suffers from a traumatic brain injury and a father who refused to put him on medication as a child. She's watched for years as he makes bad choices and commits crimes while her parents and sister make excuses for him and give him whatever he wants. When she's tried to intervene and won't help him by giving him money, they turn on her and she's practically estranged from them. Thatcher also had a strained relationship with his father, who's now deceased. They're both Christians, with Thatcher only a few weeks old and trying to turn over a new leaf. He was a bit of a ladies' man. Bethany has been a Christian longer, but she's struggling with why God doesn't stop all of the evil in the world. They're also both attracted to each other, but know getting involved would not be a good idea.
I liked a lot of aspects of this story. The investigation was fascinating, as they interviewed witnesses and suspects and discovered pieces of the truth. The faith aspect was more of a background element to the story and I liked how it was realistic for Thatcher to get different reactions from people as they realized something was different about him and he told them about his new found faith. I liked the hints of romance as they started to develop feelings for each other. It did seem a little abrupt, though, as they were attracted to each other from the start, but then suddenly can't stop thinking about the other person. Unconditional love and forgiveness were a big part of the story as Bethany dealt with her messy family and I liked that both of their lives weren't perfect and neither were they. I enjoyed the action a lot, as well. This worked fine as a stand-alone, though some characters from the previous books make an appearance. I definitely recommend this book if you're looking for a suspenseful story!
I received this book free from Tyndale House Publishers in exchange for an honest review.
Check out these videos about the book:
.