For some reason in 2014, from the 186 books I read, I really didn't give 5 stars to that many. Out of those, these stood above the rest for their writing, character development, plot and elements of faith. Of course, there were so many more books I didn't get to, but there's always 2015!
This was a wonderful story! I just loved it. A Christy Award nominee!
Here's the book description:
When Iola Anne Poole, an old-timer on Hatteras Island, passes away in her bed at ninety-one, the struggling young mother in her rental cottage, Tandi Jo Reese, finds herself charged with the task of cleaning out Iola's rambling Victorian house.Running from a messy, dangerous past, Tandi never expects to find more than a temporary hiding place within Iola's walls, but everything changes with the discovery of eighty-one carefully decorated prayer boxes, one for each year, spanning from Iola's youth to her last days. Hidden in the boxes is the story of a lifetime, written on random bits of paper--the hopes and wishes, fears and thoughts of an unassuming but complex woman passing through the seasons of an extraordinary, unsung life filled with journeys of faith, observations on love, and one final lesson that could change everything for Tandi.
Another book that wove a historical story with a contemporary one. It was beautiful, made me cry and reminded me that God has a plan.
Desc: God was going to save her marriage, Allison was sure of it.
But neither her husband nor her marriage had been saved.

What had become of His promise?

Tony Kavanagh had been Allison's dream-come-true. They were in love within days, engaged within weeks, married and pregnant within a year. Her cup bubbled over with joy . . . but years later, that joy had been extinguished by unexpected trials.

The day Allison issued her husband an ultimatum, she thought it might save him. She never expected he would actually leave. She was certain God had promised to heal; it was clear that she'd misunderstood.

Now living in the quiet mountain cabin she inherited from her single, self-reliant Great Aunt Emma, Allison must come to terms with her grief and figure out how to adapt to small town life. But when she finds a wedding dress and a collection of journals in Emma's attic, a portrait of her aunt emerges that takes Allison completely by surprise: a portrait of a heartbroken woman surprisingly like herself.

As Allison reads the incredible story of Emma's life in the 1920s and 1930s, she is forced to ask a difficult question: Does she really surrender every piece of her life to the Lord? For a woman accustomed to being someone else's savior, that will be even harder than it sounds.

Drawing from her own heart-wrenching story of redemption, A Promise Kept is Robin Lee Hatcher's emotionally charged thanksgiving to a God who answers prayers—in His own time and His own ways.
My review:
This is a wonderful story that's partially based on the author and her husband! I loved the contemplative feel to this story as Allison struggles to pick up the pieces of her life after a divorce and find a new place for herself. The interweaving of Allison's story now and in the past with her great-aunt's as she reads her journals is like a beautiful tapestry that shows both the pain and heartache they went through, but also the joy and healing as they come out the other side. I really felt for both of them and there were many times I had tears in my eyes, though this story is also very filled with hope. The message of trusting God's timing and being thankful for the hard times really hit home with me. In her note to readers, Robin wrote, "God can and does work miracles...But more often than not, Jesus invites us to be yoked with Him as we walk through the fire together. He matures us in the refining process so that we might become more like him." Allison wonders if she's thankful for the hard things and disappointments in her life and I have to say I'm not. This book challenged me to look at things differently and use those hard times to draw nearer to Jesus and to know that they are just a season in life, one that God will use for my good. This is my favorite book so far of Robin's! I highly recommend it!
I received a free copy of this book from Litfuse Publicity in exchange for an honest review.
The characters were so real and really brought history alive!
Desc: Nissa is a Jewish woman with a sharp tongue and no hope of marriage. Abandoned by the God she once loved, her only recourse is to depend upon Mouse, the best thief in Jerusalem, to keep her blind brother, Cedron, fed and the landlord satisfied.

Longinus is a Roman centurion haunted by death and failure and is desperate to escape the accursed Judean province. Accepting a wager that will get him away from the aggravating Jews and their threats of revolt, he sets out to catch the thieves harassing the marketplace.

When a controversial teacher miraculously heals Cedron, Nissa hopes for freedom from her life of lies. But the supposed miracle brings only more misfortune, and Longinus, seeking to learn more about the mysterious healer, finds himself drawn instead to Nissa, whose secret will determine the course of both their futures.

Cedron, Longinus, and Nissa are unexpectedly caught up in the arrest, trial, and crucifixion of Jesus. As danger closes in on them from every side, they must decide if the love and redemption Jesus offers is true or just another false promise. How can the so-called Messiah save them from their shackles, when he cannot even save himself?
My review:
I loved this well-written book! It was fascinating to experience this time period from both a woman's and a Roman centurion's perspective. I loved the character of Nissa! I really admired her courage and determination to survive and take care of her brother. The love story was wonderful. It had that enemies falling in love story line, with misunderstandings thrown in. As they got to know each other, they saw who the other really was. It was fascinating to see how Longinus moved toward faith in Jesus from a pagan perspective while Nissa did from a Jewish perspective, especially since she had turned her back on her faith because of her circumstances. This works great as a stand-alone, but I definitely want to read the first one and can't wait for the next. I highly recommend it!
I received this book free from Litfuse Publicity in exchange for an honest review.
Warren is such a great writer. I love so many of her books, including the Christiansen Family series!
My review:
This is a wonderful story about Eden Christiansen, obituary writer who really wants to be a reporter and sister to up-and-coming hockey player, Owen. She tries to take care of him, yet worries that she'll fail. She also feels like life is passing her by. She clashes with Jace Jacobsen, the team captain who she worries her brother is trying to emulate, on and off the rink. Not only does he get into fights on the court, but has a reputation with the ladies. As she gets to know him, however, she realizes she may have judged him too quickly. Jace feels like the only thing going for him is hockey. After too many concussions, he faces serious repercussions if he gets hurt again, but he doesn't know what else he could do. When Owen is hurt, will they work together to help him? Will Eden open his eyes to new possibilities?
I absolutely love this book! It's well-written and I did not want to put it down! I love the Christiansen family and that we get to know each of the siblings in this series. Each book works as a stand-alone, but you won't want to miss either of them. I really like the sub-plot about Jace's friend, Sam and his daughter, Maddy, as she has serious health problems and he struggles to understand how God can allow her suffering. There's also a great bonus of a novella included in the back that tells the story of the Christiansen parents! The characters are wonderful and they just leap off the page. I like that they're not perfect; they struggle with their faith and figuring out what they want out of life. I love the romance! Can he really trust a "reporter" and can she trust a famous hockey player known for his way with the ladies? You'll have to read this to find out and I highly recommend you do!
I received this book free from Tyndale House Publishers in exchange for an honest review.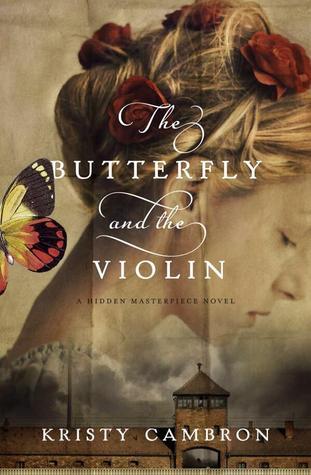 A beautiful story that combines the history of the Holocaust with a modern day mystery! A wonderful debut!
Desc.: A Mysterious painting breathes hope and beauty into the darkest corners of Auschwitz--and the loneliest hearts of Manhattan.
Manhattan art dealer Sera James watched her world crumble at the altar two years ago, and her heart is still fragile. Her desire for distraction reignites a passion for a mysterious portrait she first saw as a young girl--a painting of a young violinist with piercing blue eyes.
In her search for the painting, Sera crosses paths with William Hanover--the grandson of a wealthy California real estate mogul--who may be the key to uncovering the hidden masterpiece. Together Sera and William slowly unravel the story behind the painting's subject: Austrian violinist Adele Von Bron.
A darling of the Austrian aristocracy of 1942, talented violinist, and daughter to a high-ranking member of the Third Reich, Adele risks everything when she begins smuggling Jews out of Vienna. In a heartbeat, her life of prosperity and privilege dissolves into a world of starvation and barbed wire.
As Sera untangles the secrets behind the painting, she finds beauty in the most unlikely of places: the grim camps of Auschwitz and the inner recesses of her own troubled heart.
My review:
This was a beautiful story that I could not put down! I loved the dual stories of Adele and Sera and how the book goes back and forth between the 1940's and the present day. The romances were touching, the story well-written, the history intriguing. It was fascinating to learn the story of Adele and to find out about the orchestras formed at the death camps to perform on command. I had never heard about this, nor about the art created by prisoners and hidden. Cambron says in her author's note that more than 1,600 pieces of art were discovered in the rubble of Auschwitz. Though this book has sadness and grief, it also shows hope and the will to survive, and even see and create beauty in the midst of the horror the prisoners lived through. It was interesting to see Adele's struggle to play her violin in the death camp and for the SS officers, for her to feel on the one hand that she's using her God-given talent for evil, but also that this was the way she was surviving and that she was given this talent with which to worship God. I really admired her and how she stood up for what she believed, no matter the cost. You should definitely read this amazing debut!
I received this book free from Litfuse Publicity in exchange for an honest review.
Another winner for Melissa Tagg! Great romance and character development! She's become one of my favorite authors.
Desc:
Blake Hunziker has played nomad for five years and landed in his fair share of trouble too. But now he's finally returning to his hometown--the Lake Michigan tourist town of Whisper Shore. Counting on a not-so-warm welcome, he's surprised at not only a positive reception but also a job offer. Determined to settle down and prove himself responsible, he agrees to the catch that comes with the job offer--coordinating the annual Christmas festival--even though he has no idea how he'll pull it off.
Autumn Kingsley, inn owner and experienced organizer of the Christmas festival, has always dreamed of traveling the world. Now she has a job opportunity in Paris and a surprise potential investor coming to town who just might take on her family's inn and finally leave her free to go. The only problem is that she has just two weeks to whip the inn into shape.
Their families have a long history of not getting along, but when Blake comes to Autumn for help with the festival, she actually agrees...in exchange for his help with the repairs to her inn. They may have struck a simple deal, but complications are quick to pile on when the guy who's had enough of running away and the woman who can't wait to leave join forces.
My review:
Melissa Tagg has another winner! I loved getting to see Blake's story after meeting him and loving him in Made to Last. They can be read as stand-alone's, but you won't want to miss either one. He's a wonderfully amusing character and a perfect fit for Autumn. We see more of a serious side to him as we find out about a tragedy in his past and the blame he's shouldered for years. The importance of forgiveness and moving on are shown in the story, along with realizing that God might have a better future for you than you could have dreamed of. I loved all of the predicaments Autumn found herself in and it was fun to watch them fall for each other while they fought it the whole time. This story definitely made me smile! I found it interesting how they went about trying to revive their town and the inn and I loved the community snowball fight! I highly recommend this sweet romance and Melissa Tagg is one to watch!
I received a free kindle copy of this book from Bethany House Publishers in exchange for an honest review.
Fascinating story by Lisa Wingate. Wonderful characters and great plot!
My review:
This was an amazing story that sucked me in and kept me turning the pages! Jen Gibbs has just gotten her dream job at Vida House Publishing as an editor when she discovers an old manuscript on her desk. She reads the few chapters it contains and becomes obsessed with the story of a Melungeon girl in danger and the young man from the Eastern United States who rescues her in Appalachia in the early 1900's. She needs to find out what happened to them and hopefully sign the author to a book deal, but there is no author or address to contact. The style seems familiar to her, however, so she risks her job and convinces the boss to send her to Appalachia in search of a reclusive author who hasn't written anything in years.
Once she arrives, she finds it almost impossible to contact the author as it's fan week in the area and there are tons of crazed fans lurking around the woods and trying to get a glimpse of their favorite author. She meets some of his relatives and gets an introduction and finds her life becoming intertwined with his family troubles while she also struggles with whether to contact the family she fled when she was eighteen. Her sister has written another letter asking for money for her kin, the father, siblings and their many children who live in extreme poverty. Jen has struggled with not only feelings of worthlessness and shame, but also anger and confusion about who God is because of her family's allegiance to a cult that twists the Bible into a tool to control and subdue the members, especially the women. She was able to escape because of a wonderful teacher who encouraged her, but she doesn't want to go back, even for a visit. Could there be another reason for her being back in Appalachia, something more important than a book deal?
This was beautifully written and fascinating. With chapters of the Melungeon girl's story scattered throughout the pages, it has interesting history and culture along with hints of romance then and now. I loved seeing Jen trying to come to grips with who God is, what her family's like and trying not to get sucked back in to the hopelessness of her family dynamics. It was hard to predict what would happen when she met the author and his family and I wondered how the story would get resolved. There were a lot of interesting, quirky characters and the setting was absolutely gorgeous. I can't wait for her next book! She's becoming an author I watch out for. I highly recommend this wonderful story!
I received this book free from Tyndale House Publishers in exchange for an honest review.
This is such an enjoyable series! Julie Lessman really knows how to write a romance!
Desc:
Shy and unattractive as a child, Megan McClare has always been teased by her classmates. But when she returns home from her senior year in Paris, the wallflower has suddenly blossomed into a beauty. With ambitions to become a lawyer or doctor, Megan accepts an internship at the district attorney's office only to discover that she will be working with Devin Caldwell, a boy who mercilessly mocked her at school--and with whom she was hopelessly enamored. She turns to her dear friend Bram Hughes for support and advice. But Bram's vision is clouded by his sudden unwelcome attraction to a girl he had always thought of as a kid sister. He advises forgiveness, but can he forgive himself for pushing the woman he loves into the arms of another man?
My review:
Julie Lessman has another winner! I think this may be my favorite of the series. I absolutely loved Megan and Bram in the previous books, but even more so after getting to know them better in this one. I loved that they both had such a deep faith. It was beautiful to see how wonderfully Bram treated Meg, before and after her transformation. He was truly a Godly man to admire. It was so fun to see a makeover and the aftereffects on everyone, especially Bram. It was wonderful to see her new confidence and the way she came into her own. Seeing Bram denying his attraction and planning to court someone else out of duty was frustrating and when her old crush and school bully Devin entered the picture, I wondered for a while who she would end up with. I also loved how the relationship between her widowed mother Cait and uncle Logan played out, with Logan really having to turn to God in trust and putting Cait's happiness ahead of his own. It was cute how Meg helped a coworker with her own makeover and crush. The romances were wonderful, with some passionate kisses but nothing too extreme. The spiritual messages were wonderful, with trusting God, forgiving others, the importance of prayer, blessing your enemies, and accepting God's will. I especially liked the discussion about accepting God's will because we believe He loves us and knows what the best thing is for us rather than just resigning ourselves to His will believing He's harsh and doesn't care. It was also interesting to see how the family was working to clean up the Barbary Coast, an area of brothels and gambling dens. I really hope Lessman continues the story of this wonderful family because there are still a couple siblings who need a story. I definitely recommend this book to anyone who likes a good romance!
I received this book free from Revell in exchange for an honest review.
Another wonderful addition to the Christiansen Family series! Susan May Warren develops a love story and her characters so well.
Desc:
Hawaii was the last place Grace Christiansen ever imagined she'd vacation, much less fall in love. But when her family surprises her with a cooking retreat in paradise, she is pulled—or maybe yanked—away from her predictable, safe life and thrown headfirst into the adventure of a lifetime.

Max Sharpe may make his living on the ice as a pro hockey player, but he feels most at home in the kitchen. Which is why he lives for the three-week culinary vacation he takes each year in Hawaii. Upon being paired with Grace for a cooking competition, Max finds himself drawn to her passion, confidence, and perseverance. But just when Grace dares to dream of a future beyond her hometown, Max pulls away.

Wrestling with personal demons, Max fights against opening his heart to a love he knows he should never hope for. And as his secrets unfold, Grace is torn between the safe path in front of her and what her heart truly desires. If love means sacrificing her ideal happily ever after, Grace's faith will face its toughest test yet.
My review:
Susan May Warren has done it again! I have loved every book in the Christiansen Family series, including this one! I loved the mix of small town and exotic vacation and oh, the food! I'm not a cook, but I love to eat and try new things. I want to go to Hawaii even more now, if that's possible. I felt I could relate to Grace in being afraid to take risks in some ways, but I had a hard time understanding her fear of any kind of risk, including traveling and trying new food. She did seem a little pathetic at the beginning, but she definitely grew on me and I really liked her as the story progressed. I felt very sorry for Max and can somewhat understand where he's coming from in trying not to get involved with anyone. I liked the message, though, about life being worth living, no matter how much time you have or what you suffer through, especially if the suffering draws you closer to Jesus. I also liked that Grace realized she can't find her happiness in a guy, but in God. The secondary story was good, too, about a new girl in Deep Haven and the messy situation she gets into with Grace's brothers. I definitely hope their story continues in another book. This book can work as a stand-alone, but I recommend reading the previous books because they are so good and those characters feature prominently in this one. This well-written story deals with some tough issues and circumstances, but offers hope and a sweet romance! Don't miss it!
I received this book free from Litfuse Publicity in exchange for an honest review.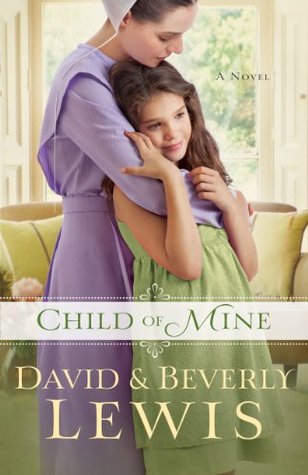 This was a fascinating and beautiful story about a woman's search for her stolen baby and a man raising his niece and how their stories intertwine.
Desc:
Jack Livingston has been raising his nine-year-old adopted niece, Natalie, since the accident that took her parents' lives. While he travels for work, Natalie is lovingly cared for by Laura, an Amish nanny who loves her as her own.
Kelly Maines is nearing the end of her rope. Her baby was kidnapped, the apparent victim of a black market adoption ring, and for eight years, Kelly has tirelessly pursued every lead to its bitter end. Now, there's one last lead from a private investigator: Just a few miles away lives a girl who matches the profile. Could this, at long last, be her beloved child?
Desperately, Kelly initiates a "chance" meeting with Jack Livingston. It goes really well. So well, in fact, that Jack asks her out. One date leads to another, and before she can come clean with her original motives, Kelly realizes Jack is falling for her--and she for him.
Now how can she tell Jack why she's really here? And having gotten to know Natalie, what if she isn't her long-lost daughter, after all? This was all supposed to be so simple.
But nothing in Natalie's world is simple...
My review:
I love this book! It's well-written and really brings the wonderful characters to life. Jack is such a wonderful father, Kelly makes mistakes but tries to do the right thing and Natalie is so precocious! It alternates between Jack and Kelly's viewpoints and shows what a loving family Natalie has in her uncle, aunt and nanny. We're shown the day-to-day family life, but it's never boring. Instead, you get a sense of how much Jack's life changed when he was named guardian of Natalie. By contrast, we see how horrible Kelly's life has been for the last eight years, wondering where her daughter is and if she's safe or even alive. I loved seeing the turnaround her life takes. I thought I knew how this story was going to go, but it kept me guessing with a couple twists. I love the faith Kelly has that she will find her child, even though she made some bad choices, which would be hard not to do in her circumstances. I like the romantic elements and was unsure if Jack would end up with anyone and if so, who. The Amish element is lighter with the story being centered on the English. The overall theme seems to be that God is working everything together for our good and it showed this beautifully. I love how everything wrapped up. This seems to be a stand-alone novel and one you won't want to miss! I highly recommend it!
I received this book free from Bethany House Publishers in exchange for an honest review.
What were some of your favorites?